From the last few years, Predictive Marketing has become the buzzword on the Internet. If we are talking about the Future of Digital Marketing, then we must add these two words: Predictive Marketing. Predictive Marketing is a cost-effective way of marketing that is evolving rapid growth in the Advertising industry.
At this time, advertising companies have made tremendous efforts in trying to understand the minds of consumers. According to us "Predictive marketing is the small part of predictive analytics that determines marketing strategy using existing data and estimates results, sales and customer behavior."
If you're among the numerous who are as yet fuzzy about what predictive analytics is, here's an answer on how it's changing the manner in which advertisers advertise today.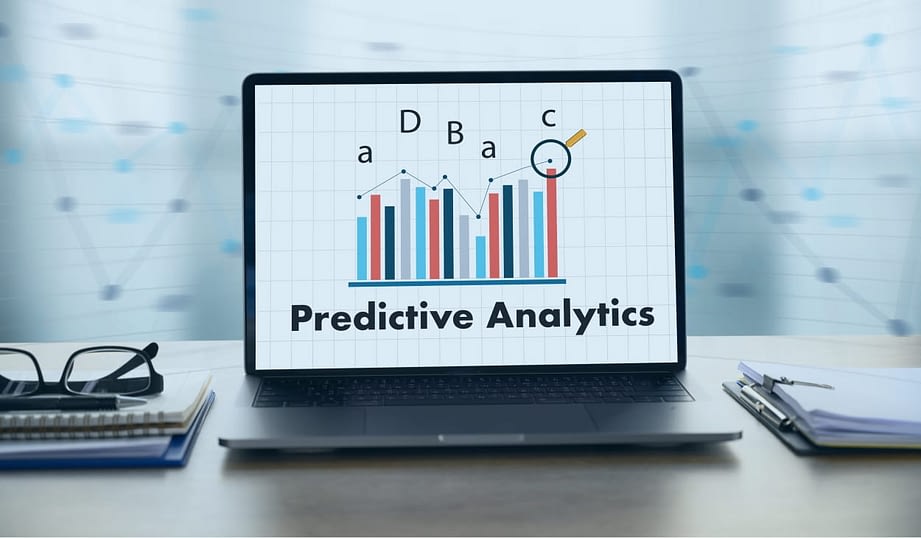 What is Predictive Marketing?
As the name implies, Predictive Marketing, Predictive which means assumption. Predictive Marketing is the process of collecting past and existing data and transforming those data into Future Insights. In marketing tools, Predictive analysis is one of the known tools from the last few years.
We use Data Science in Predictive Marketing to predict which marketing tactics are more likely to succeed and which are more likely to fail. Predictive Marketing uses available customer data to develop the ideal profile of the customer and help marketers to predict which marketing strategy will convert the lead into a customer.
Several benefits of Predictive Marketing include:
Optimize Marketing Costs
Recommend products by customer previous data.
Better audience targeting.
Perhaps, Digital Marketing is a necessity of every online business and Predictive analytics have made a drastic change in digital marketing. Today, with the help of Machine Learning, marketers can read consumer's minds and predict their buying behavior. Few businesses are starting to turn into predictive advertising companies to grow their business efficiently and to deliver a great experience to their clients.
What is Predictive Analytics Used For?
Predictive Analytics uses past and current data to predict future outcomes. This can be used to make better decisions regarding marketing strategy and buying factor. Using this tool, marketers can better understand consumer behavior and the campaign on which he has to work. With the help of Predictive Analytics, Marketers can make better advertising strategies which will lead to increased future sales.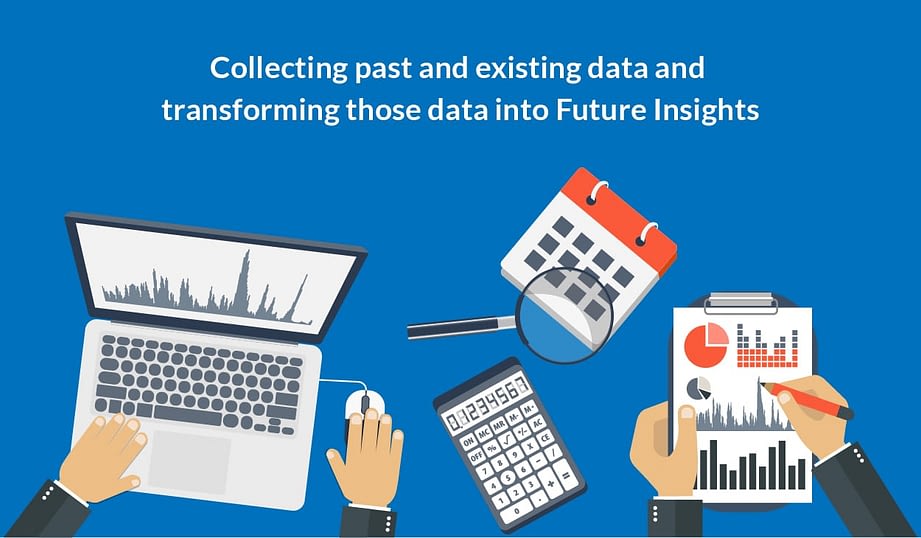 Use Data to Target Audience
Data can help you to understand the preferences, intentions, and buying patterns of the consumer as per past behavior. AI makes Predictive marketing possible. In Predictive Marketing, Consumer data is the key. Predictive advertising uses an abundance of information deliberately to drive consumer insights. Divide audiences by their past interest and demographics so that you can better target audiences. With this, you will be able to target each one separately at the right time on the right device. To predict customer behavior, many marketing tools are available in the market.
Even Facebook ads and Google ads are using Predictive advertising to increase CTR, business profits, to study consumer behavior and needs, and to reduce marketing expenses. You also track the behavior of recent website visitors who have similar buying patterns and use this data to build new audiences. Also use information, such as the location, age, interests, and current online activities to find new users who look and behave like your existing visitors.
Automatic and relevant content delivery
Like an individual, AI has the power to observe the buying behavior of the customer over browsing history and make forecasts for future buying. AI can do it faster than people and with full accuracy. You can use AI and cluster models to segment audiences and deliver the right content to the right audience. By leveraging Content Automation with AI, ad-makers can produce high-quality personalized content to specific audiences and take action on a personal level.
.
Let me give you an example.
.
I guess everyone knows about AMAZON and FLIPKART- giant eCommerce companies.
.
You know even Amazon and Flipkart are already using Predictive Marketing to target their audience. They are doing the best use of AI to cross-sell, up-sell, and next-sell and to deliver relevant ads and relevant content to the specific audience. By leveraging AI, they target their own shoppers and customers with their cookies and browsing history. Their Predictive Marketing strategy has removed its guesswork and made it easy to predict future sales, profit, and loss.
Instead of making connections manually, you can use Machine learning tools to make connections between products and behavior to convey a relevant message.
With predictive marketing, you can understand your customer better via their browsing history and use this data for better marketing strategy, how to engage the customer with the content and which content they prefer. So the ad-makers can automate personalized ads based on user interest, buying patterns, location, and so on. Eventually, this helps get through constant advertisement — improving customer experience and brand loyalty.
Optimizes ad Spend
Today, businesses are wasting millions of dollars on advertising as they target the right audience at the wrong time or right time but the wrong audience. In a survey, marketers have confirmed that they are spending more than enough to reach the right audience.
Collecting and Analyzing data manually takes a lot of time and a large investment. But Predictive Marketing overcomes this problem. However, businesses need to focus on spending less and get a double benefit. Platforms like Google automated bidding adjust bids automatically according to competitor's data and it also allows businesses to set marketing goals like site visits, visibility and conversions to optimize ad spend. With the help of Predictive Marketing, you can execute nuanced marketing and bid adjustment to drive more ROI.
Optimizing your ad campaign is the critical step in reducing ad spend and getting marketing goals effectively. You can use automated platforms like AI and ML to do these things for you or you can do it by yourself. In a worthwhile, predictive marketing is the strongest advantage for optimizing ad spend.
Optimization of Micro-Moments
The growth of mobile phones has empowered advertisers to gain valuable insights for a limited time period. Google calls "In those micro-moments, consumers expect brands to address their needs with real-time relevance. "
There are four key micro-moments that marketers can focus on to target their audiences to change over:
I want to know moments
I want to go moments
I want to go moments
I want to buy moments
Without using third-party automation, targeting ads to micro-moments is impossible. The Dynamic Creative Optimization (DCO) technology makes continuously modified advertisements dependent on logical signs about the client, for example, the audience segment, and the hour of the day at the hour of advertisement serving.
Predictive Marketing can deal with all the challenges because they analyze a huge amount of data progressively. Machine learning can estimate aim from search queries, location, and other factors, then automatically serve relevant advertisements.
Predictive Marketing can take this to the top level by helping organizations to foresee client needs before they begin showing their purpose to buy something. So, Predictive Marketing makes it possible to target these micro-moments before they even happen.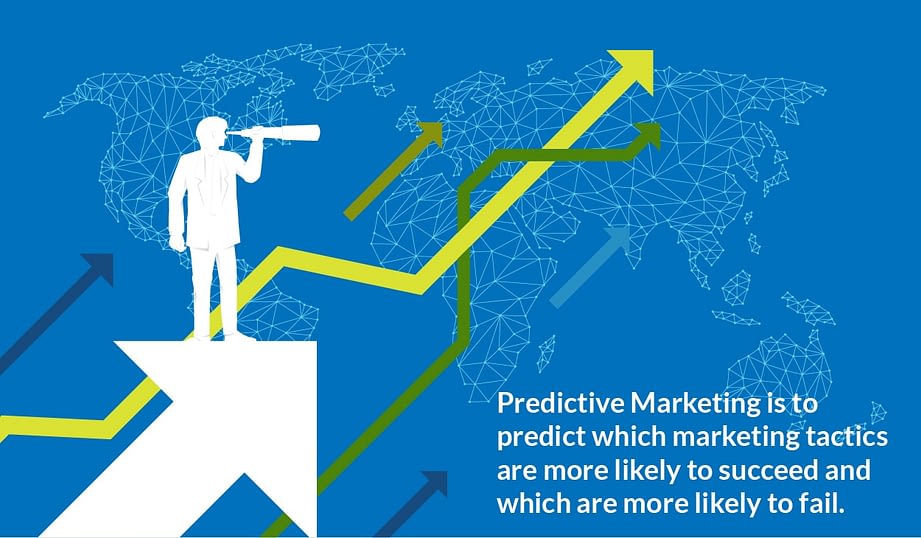 The Future of Digital Marketing is Predictive
Marketers always look for a new way to advertise campaigns to target an audience in a more effective manner. Many businesses are already using it to advertise and to reach the right audience. Predictive Marketing not only gives a better way to run campaigns but also provides valuable insights to customers.
Less than a decade ago, user data was not valuable to all businesses, but now each business has a digital location and they are promoting themselves according to the customer's past data and effectively achieving their marketing goals. This is all credit goes to the blast of online business and increasing demand of smartphones of contextual, location-based services, virtually every sort of business can work and promote themselves online