Before going forward to local SEO, let's first understand what local search is. Local search is when someone is looking for any product, service event, or any other information relevant to the particular area, or location. They could be searching for a "digital marketing company near me" to find a digital marketing company in Toronto or "best SEO service in Toronto" to find a Digital marketing service nearby. 
.
Does your business appear when your local customers search online? 
.
If your business is not visible on SERP, you could be missing out on the opportunity to be found by local customers.
.
Local SEO is the practice of optimizing search engine visibility for local businesses. It is beneficial for businesses that serve a specific area. Local SEO is the technique that can help your ranking in local search and reach your target customers. Local search results are relevant to the user's intent and drive more conversions and engagement than global search results. When businesses measure the effectiveness of SEO strategies it considers Conversions and engagement, the two main metrics. These searches take place on Google and other SERPs.
46% of all Google Searches are local. 
56% of local shops haven't even listed their GMB listing.
The principal element is it serves to promote your business' online presence on local searches by improving your local search ranking, gmb optimization. These include relevant and correct business info like name, phone number, email address, website, geo qualifiers, address, etc. across the web. With the correct and consistent information anywhere online, SERPs like Google consider that as a sign that your business is trustworthy. 
Let us tell you the importance of Local SEO, and how it will help your business:  
Boost your online presence
Improve your credibility and chance of conversion
Build trust and attract more traffic
GMB and other platforms of Google for managing business listing play a crucial role in managing business listing and local seo services for small businesses. Optimizing business websites and business Google my business profile are the best Local SEO strategies for any Local business. 
why Local SEO important, Local SEO is for any business that has a brick-and-mortar store and serves products or services in a local geographic area. Businesses that have physical locations should be using Local SEO like restaurants, bars, doctors, grocery stores, etc. 
In addition, service providers or service-area businesses that operate throughout a certain geographic area like plumbers, locksmiths, construction workers, tuition teachers, and many more are eligible to practice nearby search engine marketing and will gain more customers. 
And that is not done there! 
Local SEO is equally important to those businesses that serve local customers whether they have a physical location or not. It additionally offers local businesses a better possibility to compete with big organizations. Large businesses with their digital marketing experts can maintain their online presence without adopting local search techniques. Whereas, Local businesses who have physical locations can benefit from Local SEO to appear in SERPs around the local area.
.
Let us do your work a little less. Take a look at this Local SEO Checklist.
What's the difference between Local SEO and SEO
Both SEO and Local SEO are quite similar, they focus to improve ranking and optimize online presence so that more customers can find and buy from your business. They also use the same strategies to improve ranking.
The main difference between Local SEO and SEO is that Local SEO is based on someone searching for something in a specific geographical area, whereas SEO is dependent on optimizing to make it more visible globally. One is trying to provide results to local customers, while the other may want to simply be answering queries or give results to all around the world. Local SEO attracts your target audience near your locality, and in your area. 
But if you are a big enterprise, you must know about the SEO trends to get visibility on SERP around the globe.
Focusing your local SEO on nearby markets is like getting a smaller fish own space in a more realistically sized pool. Since most small and medium-size businesses depend on local buyers to grow. 
In Today's time where Amazon and Walmart are the giants in online shopping, it is difficult for local businesses to feel motivated and compete against them. 
As a new start-up, local business whether that's a restaurant, grocery store, dentist office, auto shop in Toronto, Local SEO performs an important role in generating more customers and conversions. Investing in local search can increase your chance to get found by the local consumers who're prepared and willing to spend money on your business. In reality, Google has a selected set of nearby rating factors that it makes use of as a measure to decide whether or not your enterprise is geographically relevant to a person performing a 'near me' search. 
That is the reason you don't need to worry about competing against large enterprises to get your local business in front of nearby customers. 
It is very beneficial for brick-and-mortar or service-area businesses to invest in local search. It can help drive more customers to your shop, so you can start generating extra revenue. However, while the right search engine optimization methods are used, this can produce a number of benefits as follows: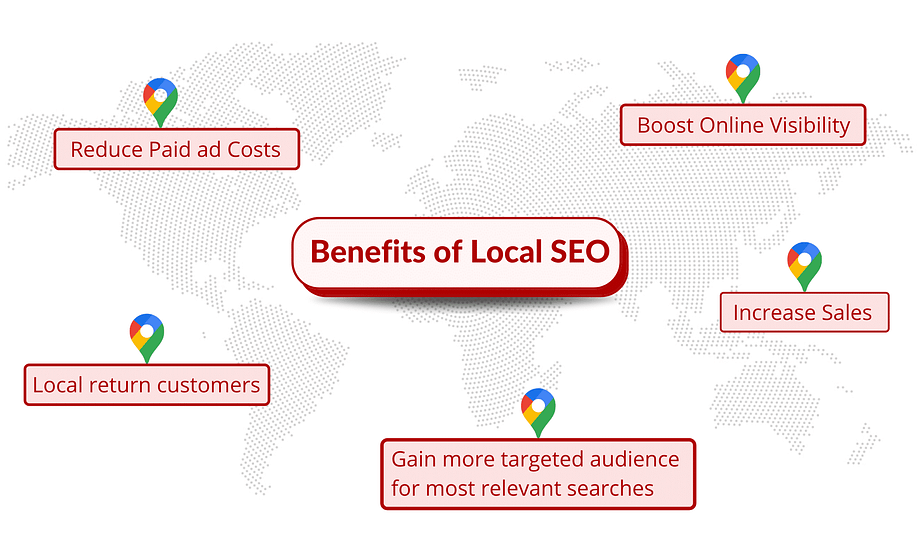 1. Boost online visibility
Gain more visibility on SERPs is the best benefit for any business. With the relevant SEO strategies, local businesses can boost their online presence in that it receives searches by the right people who are interested in buying your product. Improvement in online visibility means increment in profit, sales, and trust.
2. Gain more targeted audience for most relevant searches
By optimizing local SEO, businesses can receive more traffic and niche audience through relevant searches. If you are not utilizing local SEO, you could lose the chance of getting noticed by your potential customers.
3. Reduce Paid ad Costs
Local people or searchers while searching anything in their area prefer "near me" keywords. If you are using these keywords in your GMB or business listing and optimizing SEO you can improve your rankings and save money that you would otherwise have circulated in other methods of advertising, such as newspapers, banners and many more.
4. Local return customers
Local SEO has two main points for visitors. First, when you are offering any extraordinary services to customers, they are most probably to come back and build long-term business relations. This boosts your sales and revenue from a customer to hundreds of them. Second, they will find you and stop by. Next, after they want those offerings once more, your name will pop up on the top of the search and cause their reminiscence.
5. Increase sales
An increase in relevant visitors ends in a boost in income. With local customers ready to buy, displaying up as an authority on your location will boost your chances of being the landing spot for their purchase. Instead of finding businesses that are hours away or require them to blindly purchase online, they are able to visit you and get to understand you as a local.
If you are searching for any advice and help to improve your local SEO, Codepaper is here. We are a Toronto-based Digital Marketing Company offering SEO service, Software service, Website creation, and many more.